Ermilio's Italian Restaurant - Eureka Springs, AR

Phone:

(479) 253-8806

(no reservations taken, just come on down!)
Hours:

We are open 5pm to 9pm, 7 days a week.
Location: We are located at

26 White St.

on the upper Historic Loop (old Highway 62B) in Eureka Springs AR. We are just a few short blocks from the renowned

CRESCENT HOTEL

and a short walk from many of the Victorian Bed and Breakfasts and Historical Lodging. View a Map
Parking: There is plenty of

FREE PARKING

and a

WHEELCHAIR ACCESSIBLE RAMP.
Receptions:
Ermilios is the perfect venue for hosting your wedding reception, after-party or other event. Please call us for details: (479) 253-8806

---
Dinner Menu
---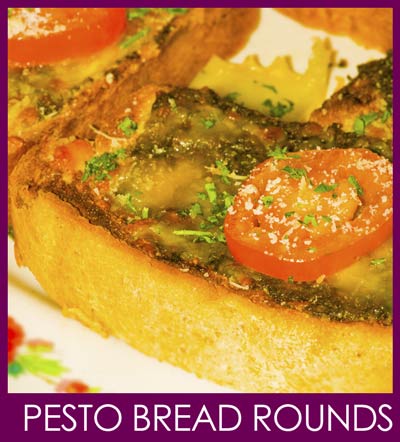 -APPETIZERS-
---
Stuffed Mushrooms $6.75

Fresh mushroom caps stuffed with our own mixture of artichoke hearts, cream cheese, Italian bread crumbs, Parmesan cheese and seasonings; topped with mozzarella and broiled until piping hot.

Caprese Salad 6.75

Vine ripened Roma tomatoes with fresh mozzarella and basil served with extra virgin olive oil and aged balsamic vinaigrette.

Gorgonzola Bread Rounds 6.00

Slices of our crusty, whole-grain bread topped with Gorgonzola cheese, flame-broiled until golden, and garnished with crisp apple slices.

Pesto Bread Rounds 6.00

Our whole-grain bread slices spread with fresh pesto, covered with mozzarella cheese, broiled, then topped with fresh tomato slices. Served hot.

Sauteed Artichoke Hearts 6.75

Tender artichoke hearts sauteed in olive oil, garlic, white wine and basil. Served hot and garnished with Parmesan cheese and chopped tomato.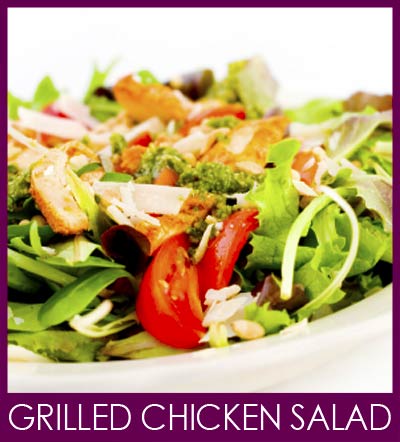 -SALADS-
---
House Salad $4.00

Cold, crisp romaine and spring greens garnished with red onion, sliced mushrooms, and tomato.

Vegetarian Chef Salad 6.95

Spring greens with assorted fresh vegetables, ripe tomatoes, mozzarella cheese, and freshly grated Parmesan cheese.

Grilled Chicken Breast Salad 8.95

Our chef salad topped with a boneless, marinated char-grilled chicken breast.
Salads come with your choice of our "made from scratch" House Dressings:
Italian Vinaigrette

Pesto Vinaigrette

"Too Blue For You" Blue Cheese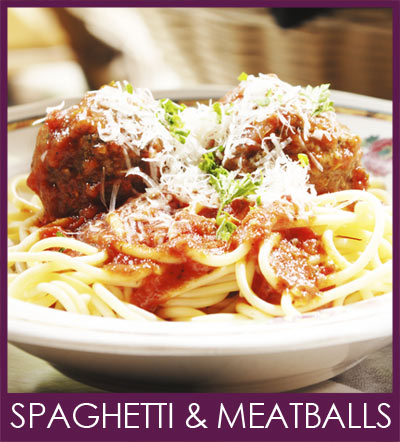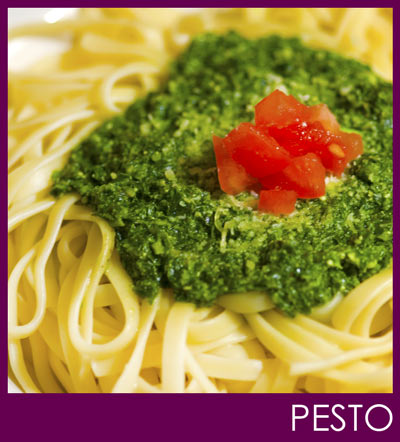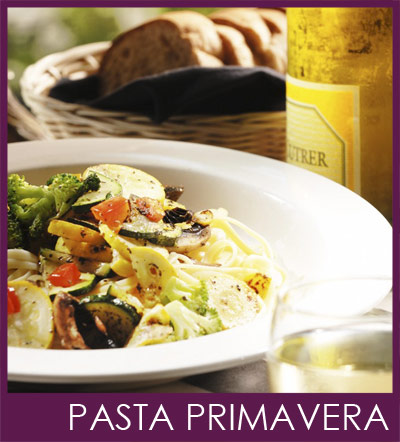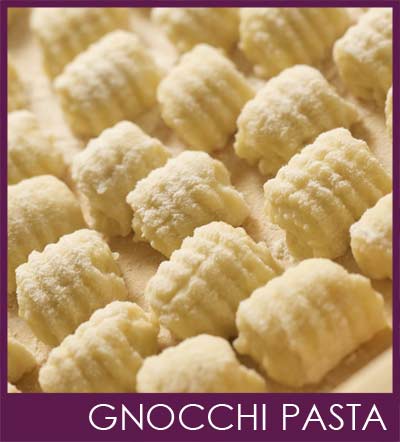 -PASTAS & SAUCES-
---
First, choose your favorite sauce...
Mom's Homemade Meatballs $10.95

100% lean ground beef, hand-rolled and seasoned with Mom's favorite Italian herbs and spices; simmered in her rich, flavorful red sauce... This is a family tradition!

Arlene's Chicken Sauce $10.95

A peasant style, (bone-in) skinless chicken breast baked in herbs; then simmered until tender in Arlene Ermilio's mild and tasty red chicken sauce.

Italian Sausage $10.95

A link of sweet and spicy Italian sausage covered with Mom's red sauce.
This is Uncle Sal's favorite!

Fresh Tomato Basil $10.95

Aunt Millie's own combination of fresh whole leaf basil, ripe tomatoes, and a subtle blend of herbs. A light, tasty marinara.

Pesto $10.95

A robust combination of fresh basil, garlic, pine nuts, Parmesan and Romano cheeses; blended together in virgin olive oil. Garlic and basil lovers, this one's for you! With its distinct flavor of Genovese origin, this is Aunt Jessie's favorite.

Primivera $10.95

Assorted fresh vegetables sauteed in garlic, virgin olive oil and our own medley of seasonings. Combined with vegetable broth, this is a light, healthy dish.

Gorgonzola Cheese Sauce $10.95

Chunky, creamy sauce made with tangy, aged Italian bleu cheese softened in hot olive oil with garlic and a touch of cream.

Garlic & Olive Oil $10.95

Plain and simple, garnished with parsley. Delicious on any pasta, this one is the real thing!

Alfredo Sauce $10.95

King of the cream sauces! Butter, heavy cream and Parmesan cheese make the base for this rich Northern Italian classic. We add our own special touch to make this a sauce you will remember.

Clam Sauce $11.95

A true Yankee clam sauce. Fresh Little Neck clams simmered in a light, flavorful broth of olive oil, clam juice, garlic and Aunt Mary's favorite seasonings.
Now, pick your favorite pasta...
Spaghetti

Linguine

Fettuccine

Spinach Fettuccine

Gnocchi

Mostaccioli

Ricotta Cheese Stuffed Tri-Color Tortellini

(add $2.00)

Spinach & Cheese Stuffed Ravioli

(add $2.00)

Ricotta Cheese Stuffed Ravioli

(add $2.00)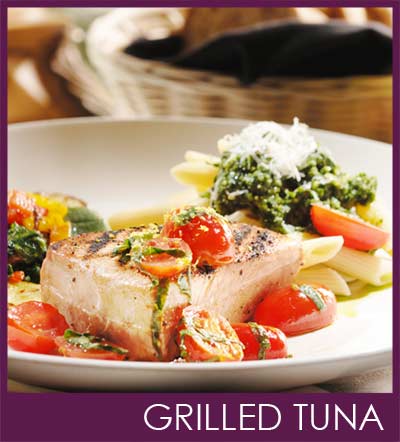 -DINNER SPECIALTIES-
---
Filet Mignon $28.95

We cut our 8 oz. filet from Chairmans Reserve beef tenders. We season it, pan sear it in olive oil, then surround it with our rich red wine and tarragon sauce. A house specialty!

Ermilio's Pan Roasted Pork Chop $16.95

12 oz. bone in pork chop pan roasted and finished with a porcini mushroom demi-glace.

Chicken Marsala $16.95

8 oz. boneless chicken breast sauteed in butter with mushrooms, shallots and Marsala wine.

Shrimp Scampi $18.95

Sauteed in virgin olive oil, garlic, lemon and white wine. This traditional shrimp dish is simple and delicious. Served over linguini.

Shrimp Provencale $18.95

Large shrimp sauteed in olive oil with garlic, shallots, white wine, fresh tomato, cream and Parmesan cheese. Served over linguini.

Fresh Fish as available -market price

Tuesday & Friday Special -

Eggplant Parmesan - $11.95




Wednesday & Saturday Special -

Lasagne - $11.95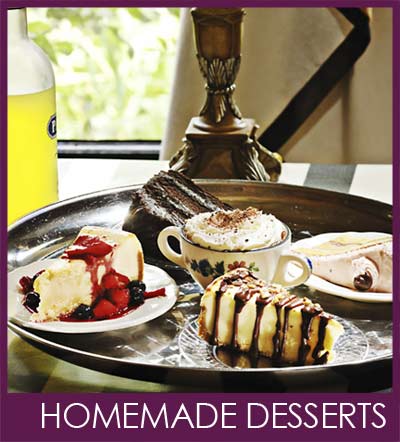 -HOMEMADE DESSERTS-
---
Try our house specialties:

TIRAMISU

ITALIAN CREAM CAKE

or, Ask your server to show you tonight's unique selections.

Finishing touches:

Cappuccino, Espresso, Latte made with love.

We also have a great Wine List
and Beer, Cocktails, Cordials
are always available!